RESI economists highlight 'stranger things' and economic growth at annual forum
Regional Economic Studies Institute event highlights economic trends on the local, state and national level—and how TU is making an impact
"Are we in a recession? Are we in a full recovery? The only thing that's constant in our
"Are we in a recession? Are we in a full recovery? The only thing that's constant in our current economy is uncertainty. And, while uncertainty makes for a great Netflix series, it doesn't lay a firm foundation for the economy."
That's how Daraius Irani, Regional Economic Studies Institute (RESI)'s chief economist and vice president of strategic partnerships and applied research at TU, began his annual economic forecast, referencing the popular Netflix show "Stranger Things" and the theme of the 2019 Economic Outlook Forum: Stranger Things Edition, held Nov. 7 at West Village Commons.
Irani began by highlighting what's going well with our economy, including steady employment and the largest period of growth since the Great Recession.
"In spite of the uncertainty that has been going on in the economy, both in terms of legislative issues and presidential races, GDP has grown for the last 124 months," said Irani. "While it's not always been spectacular, it's been steady growth."
He pointed out that while growth has been slower, consumer confidence remains high, and this confidence is helping to drive growth.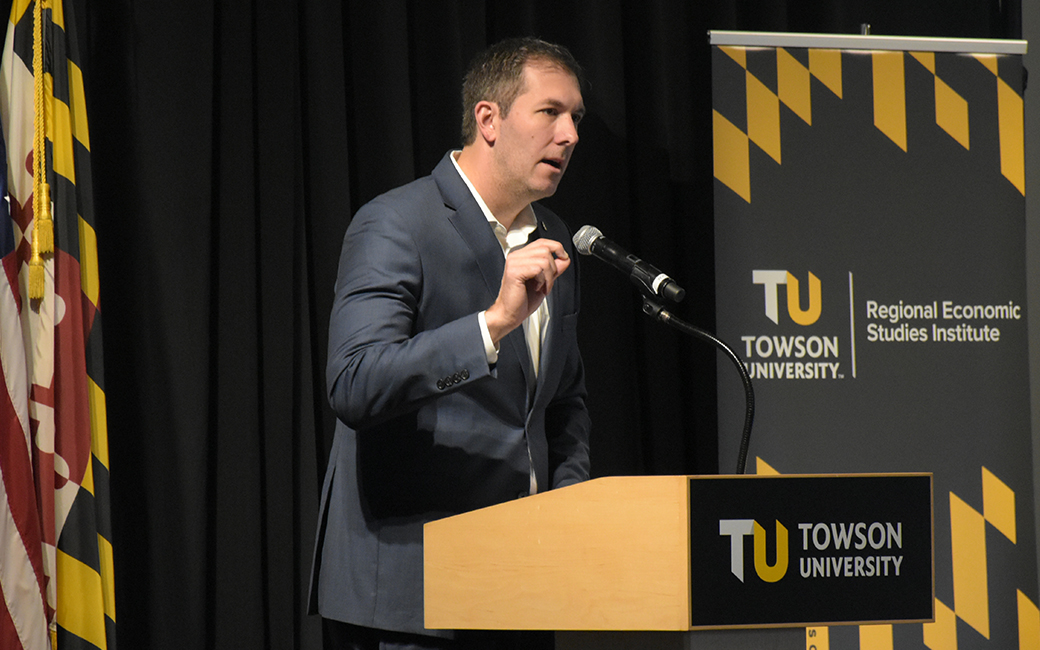 Spurring economic growth in Towson
Positive economic news was also referenced in opening remarks made by Baltimore County Executive John Olszewski Jr., who noted that over the last 10 years there has been over a billion dollars in private investment made in downtown Towson.
He also applauded Towson University President Kim Schatzel for the university's Together Towson initiative and commitment to spurring economic growth by expanding offices and student housing into downtown Towson.
"I appreciate Dr. Schatzel's drive to make Towson University truly a part of the community that surrounds it. The expansion of resources and space the entire community can utilize is what brings students and their community together in a positive way," said Olszewski.
Olszewski noted that TU is working to renovate and rejuvenate the Towson Armory into a space that will "enhance community engagement, outreach, entrepreneurship, continuing education, and workforce development."
"This initiative is helping to spur economic development. The combining of TU and the County's economic development offerings will create a vibrant business hub in the heart of Towson," said Olszewski.
As goes Baltimore City, so goes the rest of the state
In closing out his economic forecast, Irani noted he's cautiously optimistic about the state of Maryland's economy, highlighting positives such as Maryland's highly educated workforce, educational and healthcare institutions, and federal research dollars, all which help to drive the state's economy forward.
Irani pointed out that Maryland's growth will be driven by small businesses. However, as a state, Maryland needs to increase opportunities for entrepreneurs and small business owners.
"Hopefully, the Towson Armory will help to move this needle forward," said Irani.
Irani also noted that for the entire state to have positive economic growth, challenges in Baltimore City need to be addressed.
"As goes Baltimore City, so goes the rest of the state. Our port is there. Major institutions call it home. We need to make sure that Baltimore City is able to thrive," said Irani, noting that many suburbs discount Baltimore City.
He pointed out that for Baltimore City to truly thrive there needs to be stable leadership.
"We need to fix that issue. You cannot underestimate just how important it is to have good, strong leaders with a great vision and be able to achieve that vision," said Irani. "That's going to be critical. With really good leadership, we should see economic growth."
Highlighting solutions to disparities in Greater Baltimore
For the past year, economists at RESI have been researching and reporting on disparities in income, education and life expectancy, which vary widely from one neighborhood to the next in Baltimore City.
"While Maryland is one of the nation's wealthiest states, not all Marylanders experience this reality. This is especially visible in Baltimore City," said Mike Siers, director of research at RESI.
Based on this research, RESI convened four round tables to discuss potential policy responses to these disparities. These discussions brought together local experts on a variety of topics, including food insecurity, public education, access to employment and public transit.
Following Irani's economic forecast, Siers presented four policy briefs his team developed in response to the round table discussions. Key takeaways from RESI's research include:
If Maryland's high school graduation rate increases to the best in the country, the class of 2021 would earn an additional $4.4 billion in lifetime earnings across the 2,432 new graduates.
Compared to alternative uses of funding, the Summer SNAP program to combat food insecurity supports 13 percent more jobs, 11 percent more wages, and 4 percent more tax revenue.
Biking's advantages relative to public transit are most prominent in an "inner ring" of neighborhoods in west and east Baltimore City—many of the neighborhoods where households rely on alternative transit modes the most.
The types of industry partners impact a new public-private partnership (P3) greatly. Before launching a new P3, it is critical to understand available partners to know how the program will be funded and organized.