Celebrating Five Years of FAST Success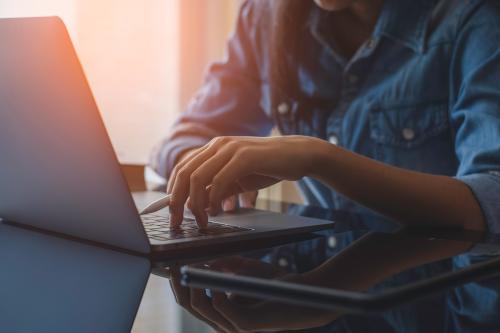 For five years, the TEDCO Small Business Administration (SBA) Federal and State Partnership Program (FAST)-funded Proposal Lab has taught more than 120 Maryland tech and life science businesses the essential skill of writing compelling, compliant, competitive Phase I SBIR/STTR proposals. The results are clear: companies participating in TEDCO's Proposal Lab outperform the competition with a Phase I award success rate of 39%, more than double that of other applicants.
"TEDCO is gratified to be celebrating the success of five years of the proposal lab," said Troy LeMaile-Stovall, TEDCO CEO. "It is rewarding to see results from TEDCO's work to support Maryland tech companies, particularly our efforts to ensure Maryland's women-owned and small, disadvantaged businesses are represented in our cohorts. We know that access to funding is essential to Maryland's talented innovators, and we constantly seek ways to support those who are underserved in the tech startup space."
TEDCO, in partnership with OST Global Solutions and the Maryland Small Business Development Center (SBDC), has helped Maryland businesses generate more than $13M in SBIR and STTR Phase I and Phase II funding. Through a competitive selection process, the lab has a special focus on serving underserved and underserved businesses from across the state. Across the five cohorts who have participated in the SBIR/STTR Proposal Lab, TEDCO has supported a diverse array of companies – 46% woman-owned, 27% rural-based, and 57% small, disadvantaged businesses.
TEDCO's success with the SBA FAST SBIR/STTR Proposal Lab is one of the many ways TEDCO is leading innovation to market in Maryland while also supporting a robust entrepreneurial ecosystem. Not only are cohort companies receiving specialized support, but TEDCO is also investing in these companies, companies like Astek Diagnostics and NasaClip who have received TEDCO investments and specialized support through our Entrepreneur and Ecosystem Engagement programs.
"The support and mentoring we received as members of a SBIR/STTR Proposal Lab cohort paid off when Astek Diagnostics was awarded an SBIR grant of $256,000," said Mustafa Al-Adhami, CEO of Astek Diagnostics. "We are grateful to TEDCO for the substantial role they played in our success."
"My participation in TEDCO's SBIR/STTR Proposal Lab helped my company NasaClip be selected for a $256,000 SBIR grant from the National Science Foundation," said Elizabeth Clayborne, founder of NasaClip. "Maryland's science and tech entrepreneurs benefit greatly from TEDCO, including those of us who are underserved in the startup community. TEDCO embraces diversity, equity and inclusion, making it a priority to engage and invest in underserved founders and communities. That includes their efforts to recruit founders like me to participate in the SBIR/STTR Proposal Lab."
Facilitated by proposal writing experts and partners at OST Global Solutions, the lab includes six full-day workshops – now all virtual – as well as special topic webinars culminating in the submission of NSF Phase I proposals. Workshop topics include business model design, compliance/speed writing, commercialization planning, TEDCO market search, budgets, graphics, editing, and submission prep. Throughout the six-month lab, participants write NSF proposals that receive at least six reviews by industry and market experts specifically selected to meet the needs of participants. Each lab includes a guest speaker, such as topic managers from the 11 SBIR agencies, successful past cohort members, and experts in disciplines from budget development to commercialization plan development. Upon completion, 80% of post-proposal lab survey respondents describe themselves as having achieved high to senior-level proposal writing experience, win-strategy development, and increased business insight.
"Like the entrepreneurs we work with, our TEDCO team is always looking for new opportunities to reduce risk for the companies we support, and the SBIR/STTR Proposal Lab is a great example of that," said Kimberly Mozingo, TEDCO's director of Federal Programs. "What differentiates our approach to investing our FAST funding in tech and life science startups is the relentless pursuit of excellence for our cohort members. We surround them with experts and give them every opportunity to learn. We are proud to be celebrating our five-year anniversary and looking forward to the future. It's a true collaboration and we celebrate this recognition with our graduate companies and with our partners."