Johns Hopkins University partnership with the Maryland Innovation Initiative looks to eliminate risks mosquitoes bring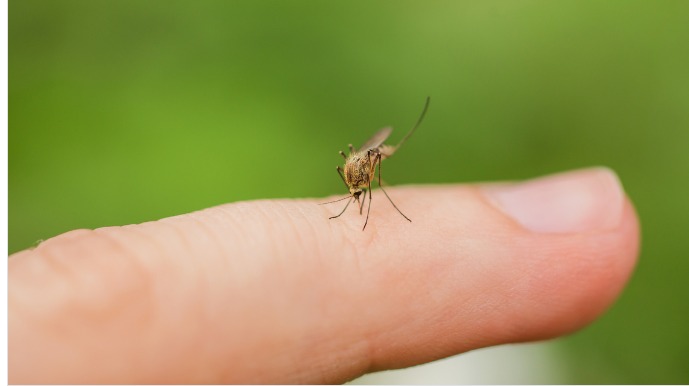 Summer is upon us. Warmer months in the mid-Atlantic often conjure thoughts of flowers, trips to the beach or lake, and backyard cookouts. However, these increased temperatures also mean the emergence of annoying pests, like the mosquito.
Most of us associate mosquitos with mean red, itchy welts and having to bring insect repellents along on outdoor adventures. However, for others, particularly those living in hotter, more humid climates, mosquitoes are more than pests – they can be deadly transmitters of viruses such as malaria, dengue, yellow fever, Zika virus fever or West Nile fever.
Mosquitoes are one of many vectors – insects that can transmit infectious pathogens among humans, or from animals to humans. According to the World Health Organization, "vector-borne diseases account for more than 17% of all infectious diseases, causing more than 700,000 deaths annually."
This is where Maryland Innovation Initiative (MII) awardee George Dimopoulos, Ph.D., MBA, is stepping in. A professor of molecular microbiology and immunology at Johns Hopkins University's Bloomberg School of Public Health, Dimopoulos is studying vector-borne diseases and possible ways to render mosquitoes – what he deems "the deadliest animal on the planet" – incapable of transmitting human pathogens.
His research could help to reduce the number of vector-borne diseases. With the aid of a grant from MII, Dimopoulos is seeking to commercialize a nontoxic, environmentally friendly biopesticide. He has developed a cost-effective biopesticide that can target and kill adult and larval stages of mosquitoes and other agricultural pests, such as the Western corn rootworm that causes more than $1 billion in damages each year.
MII was established in 2012 as a technology transfer program to accelerate promising technologies from research labs to the commercial sector. Johns Hopkins University is one of five universities that partner with MII. There are two MII awards – Phase I, technology assessment, and Phase II, company formation.
Dimopoulos has a Phase I grant which fosters commercialization of such technologies through technology validation, market assessment and the creation of university startup companies in Maryland.
Arti Santhanam, Ph.D., executive director of MII, said, "For our university partners, MII does more than provide funding and support commercialization. It changes the culture so that research has a purpose and faculty discover more satisfaction in translating their research to an applicable product.
"I am risk-averse, and the MII program was a great opportunity to explore the commercial potential for our product. TEDCO provided a lot of good information, and the site miners were helpful in providing feedback quickly, making it a straightforward process," said Dimopoulos.
Site miners are individuals selected by the MII program to assist startups and faculty with submitting a strong business-oriented application focused on commercialization.
Johns Hopkins Technology Ventures (JHTV) supports technology commercialization efforts of university faculty. To date, they have helped to create more than 200 companies.
Nicole Snell, associate director of ventures at JHTV said, "The MII program has tremendously valuable, nondilutive funding that propels and de-risks technology. It addresses the gap in funding not provided by traditional research grants, and often leads to additional investments from private funders."
As for how the MII program changes the culture at JHTV, Snell added, "Our faculty see the impact of their colleagues' work through the program and want to do it as well. We incubate teams internally to strengthen opportunities to license technologies."
Dimopoulos shared that the MII grant helped him develop a scale-up production method that was also cost-effective. With a commercialization plan in hand, registering with the Environmental Protection Agency (EPA) is the next step. EPA registration is a complex and expensive process but an important one that will include toxicology tests to ensure it is safe for the environment, other insects (for example, pollinators and ladybugs) and animals.
He stated, "The MII program helped secure additional funding. It propelled our technology to a different level, and we were able to demonstrate for investors that the product can be produced to scale."
Following the EPA registration, Dimopoulos hopes to apply for Phase II MII funding to create a company, and possibly license the product to pest control companies.
"There are numerous possibilities following the creation of our commercialization plan. We could team up with an agricultural pest control company. Our biopesticide could be incorporated into other products so we could license it to pest control companies. The military is also interested in exploring how they could use it in their mosquito control efforts," Dimopoulos shared.
Phase II, or the company-formation period, supports advancing a technology to achieve commercial milestones significantly increasing the company's value, and better position the company for product launch, customer acquisition and follow-on investment.
"Our purpose is not financial returns but to grow companies, and as a trusted entity committed to helping our companies grow, we build confidence in the technology for other investors," said Santhanam.
Snell added, "MII funding incentivizes university faculty and companies that spin out of our office to stay in Maryland, which means more jobs and increased support of the state's economy."
TEDCO, the Maryland Technology Development Corporation, enhances economic empowerment growth through the fostering of an inclusive entrepreneurial innovation ecosystem. TEDCO identifies, invests in, and helps grow technology and life science-based companies in Maryland. Learn more at www.tedcomd.com.