Maryland initiative contributes to the strong innovation culture at UMBC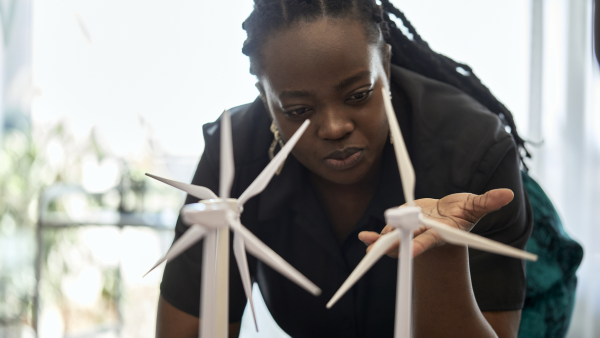 The Maryland Innovation Initiative MII partners with five major research universities throughout Maryland.
Maryland is home to many talented faculty members. In fact, the state has the highest concentration of Ph.D.s in the country and ranks No. 1 for its technology and science workforce. The University of Maryland Baltimore County (UMBC) houses many of these talented individuals who are regularly experimenting and creating new innovations. The real challenge for these pioneering minds is how to bring these innovations to the marketplace.
With ideas that could benefit the public, it was clear that assistance in getting them to the market would be necessary – hence TEDCO's creation of the Maryland Innovation Initiative (MII). Established in 2012, MII partners with five major research universities throughout Maryland, including UMBC. Through this partnership, MII can leverage each of the university's strengths, supporting the growth and acceleration of promising technologies through venture creation.
"UMBC was so focused on education and research when we arrived 10 years ago; MII was the piece that could help them take their technologies to the commercial space," said Arti Santhanam, Ph.D., executive director of MII. "The willingness, intentionality and commitment of UMBC's leadership has been such an important factor in the success of both the individual faculty and the MII program here at UMBC."
MII at UMBC successful projects and startups
Through the MII program at UMBC, faculty like Deepa Madan, assistant professor in UMBC's mechanical engineering department, are connected with site miners. These individuals are MII employees who assist faculty with submitting strong business-oriented applications for funding. Madan's application for a rechargeable, zinc-based battery enclosed in flexible plastic was accepted and she recently completed her first MII Technology Assessment phase.
Madan and her students are working on a second project aptly named Flexicharge. It's a method of generating electricity for remote sensors using temperature differentials of the human body and the surrounding air. The team is excited about bringing this innovation to market, with Madan noting MII has impacted her work beyond the commercialization aspect.
"My own perspective as a professor has changed. When I'm teaching, I try to expand beyond the technical and theoretical and share practical applications with my students," said Madan. "My graduate students can work with me as I develop my company. My students and I have benefited from MII; I'm so glad I have this program at UMBC."
Madan's experience with MII is one of many. Riadul Islam, Ph.D., assistant professor of computer science and electrical engineering, has also benefited from the MII program at UMBC.
Islam's MII-funded project, GraphCAN, is a low-cost, software-based platform and agnostic solution for cyberthreat detection that provides the zero-layer for autonomous vehicular security. Islam's students helped him build and test a prototype of the new technology. As he prepares to seek another round of funding for GraphCAN, Islam cites another benefit of MII: He's supported by experienced professionals on the path to commercialization and values their expertise. "Bringing something new to the world is a disruption … but it's a disruption in a good way."
Another example of successful MII support at UMBC is Weidong Zhu, Ph.D.'s project TrackingStar, a zero-contact tracking system for wind turbine health monitoring. Zhu is a professor of mechanical engineering at UMBC and a prolific inventor of green technologies. Recognizing that the current system is hands-on, costly and dangerous, Zhu and his students developed new technology to reduce the cost of wind turbine inspections by allowing technicians to evaluate the health of blades from a distance. The cost-saving solution removes the need to completely shut down a turbine, while also making the inspection process much safer. TrackingStar is currently being tested in Crisfield, Maryland.
"MII is a very good program; it focuses on the application of research and commercialization. At UMBC with my students, we are always keeping the application in mind as we conduct basic research. Entrepreneurship comes naturally after that," says Zhu, a multiple MII awardee.
MII fosters growth, excitement and learning
Creativity is flourishing at UMBC, and not just in the STEM fields. MII projects are underway across departments – from life sciences, engineering and computer science researchers to education technology and music innovators. To date MII, has supported around 40 projects from UMBC alone, with nearly two dozen company formations.
And while these stories of innovation and research are essential to the growth of Maryland's ecosystem, that's not all MII impacts. MII plays a role in the very culture of the universities they partner with. In fact, the impact MII has had on UMBC faculty has been observed throughout the university.
"MII has done more to change the attitude of entrepreneurial faculty over the last 10 years than anything else. They're interested in starting companies, getting grants and funding – the change in attitude is notable," explained Wendy Martin, director of the Office of Technology Development at UMBC. "Prior to MII, UMBC had a startup once every other year. Now we have multiple startups per year. Our faculty get a chance to access close to a half-million dollars for their projects."
Working alongside UMBC's team, MII offers faculty innovators guidance and best practices to support the translation of their research to the commercial space. Along the way, these researchers get a new education – this time, in business.
"While these talented researchers may think about their discoveries as something that could help a patient or end user, they weren't thinking about the commercial value proposition of their discoveries," said Santhanam, executive director of MII. "MII helps them in stages; they start to understand their value proposition and use the language of business."
MII-funded faculty and interested applicants regularly gather for startup roundtables to discuss business best practices, as well as conflicts of interest, struggles and successes. Since MII came to UMBC, it also created a Technology Catalyst Fund and an express license agreement to help faculty founders speed up the licensing process.
This entrepreneurial ecosystem, coupled with a spirit of collaboration, makes UMBC a special place for innovation-minded faculty and students. UMBC's MII-funded startups also benefit the state, spurring innovation, investment and economic opportunity.
Learn more about MII here.